Jeannine | Mind body therapy - Clinical Hypnotherapy - EFT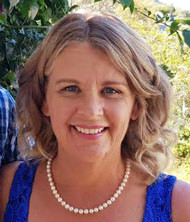 ✓ I also offer online therapy
Great, you are taking the first step.
Leave a message and I will contact you as soon as possible.




Online therapist - online hypnotherapy
My name is Jeannine.
I help people navigate life's challenges, who think being unhappy must be the way it is, are often at their wits end, and have tried "everything". I work with you to deal with things that are holding you back. Feeling positive, finding hope and enjoyment while dealing with the challenges are key components of the sessions and work together.
I help you gain confidence and self-belief, grow your courage, and step into what life holds for you. My approach is practical and considerate, helping you look within, uncover your own answers and insights, make your own breakthroughs – and be the owner of your journey.
I've been working with clients in Auckland clinics and online throughout New Zealand and internationally for many years, helping through:
Mind body therapies to balance head, heart, gut, spirit, improving health and wellbeing.
Clinical Hypnotherapy, using the healing state of hypnosis to make positive changes in your life.
EFT, a remarkable yet incredibly simple energy psychology therapy which clears emotional imprints of shock and stress, opening up possibilities of a compelling future.
BodyTalk, simple and effective therapy that re-synchronises the body's energy systems.


Please mind: I have a private practice and the therapy is unfunded.


Areas
Specialty areas include:
Virtual Gastric Band
The Fertile Body Method and HypnoFertility
Menopause Relief
Overcoming Sugar Addiction
Relaxation Therapy and Training
I have helped people with a wide range of presenting issues including anxiety, low self esteem, panic attacks, stress, pain management, recurrent headaches and migraines.
Would you like to know more or make an appointment, feel free to contact me.
Jeannine
Online therapy
I work successfully with clients via Skype sessions.
Qualifications and registrations
Diploma of Clinical Hypnotherapy (NZ School of Clinical Hypnotherapy)
Certified EFT Practitioner (AAMET International)
Certified BodyTalk Practitioner (IBA Global Healing)
Registered HypnoFertility™ and Fertile Body Method practitioner
Qualified to practice Virtual Gastric Band, Menopause Relief and Sugar Addiction programmes (Sheila Granger Hypnotherapy Training)
Registrations
Specialisations
Specialty areas include:
Virtual Gastric Band, which provides the benefits of weight loss surgery without the invasive operation, expensive medical costs or lengthy recovery period.
The Fertile Body Method and HypnoFertility, to help with pre-conception, natural fertility, IVF and other medical treatments, miscarriage, pregnancy and post-natal issues.
Menopause Relief helps to reduce the intensity and frequency of hot flushes and other effects of hormonal changes.
Overcoming Sugar Addiction, to release people from the prison of sugar cravings and binge eating.
Relaxation Therapy and Training, physical relaxation helps to calm emotions and the mind, allowing space for awareness and clarity of thinking.
Therapies offered
Areas of counselling I can help with
Fees
Session fee is $150/hr including GST
Because I want this all-important work to be accessible for all, I offer flexibility regarding payments, and a sliding scale for those who need it. We can discuss this when you contact me.
Location