Travis | Social worker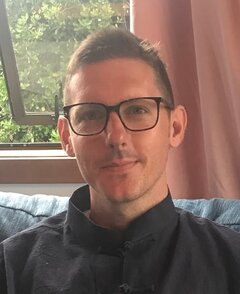 Counselling New Plymouth




74 Vivian Street - Office Suite 6




4374

New Plymouth

Send a message
✓ I also offer online therapy
Great, you are taking the first step.
Leave a message and I will contact you as soon as possible.




Counselling New Plymouth
Kia ora,


My name is Travis. I am originally from North Carolina in the United States. I currently reside in the Taranaki region and have been here for nearly 5 years. I have been counselling in a professional capacity for 9 years.


As a counsellor, I seek to create a trusting and open relationship with clients that allows for emotional safety and openness to express one's experience. It is certainly an honour to serve in this capacity and to be witness to our shared humanity in navigating adversity and celebrating positive change.

I provide confidentiality, a sacred space, presence, respect, genuine kindness and empathy for your journey.
Counselling Services
I believe in a holistic model of approaching therapy. Namely, our physical, emotional, mental, and spiritual aspects are interrelated and effect one another. I approach this work with the intention to empower my clients to become increasingly more conscious of their own and the human condition.

While being primarily relationally focused, I also impart skills within the sessions that allow for slowing down, releasing, integrating, and practicing outside of the therapeutic environment.


Therapy can be of assistance in deepening awareness, taking responsibility, and reframing triggering events in order to provide internal inquiry. In my view, as human beings we all share in common pitfalls and maintaining integrity is a result of conscious practice, legitimate support, and incremental inner work towards wholeness. AND some of this work can even be FUN!!
I provide counselling for individual adults and adolescents. My wife (
Jessica
, MFT) and I also offer couples counselling online or in-person.
I offer counselling that adheres to the ANZASW code of ethics, which includes confidentiality within the parameters of safety and ethical practice. I welcome people from diverse backgrounds, values, beliefs, cultures, abilities and age groups.



Counselling Approach
My counselling approach values kindness, empathy, connection and compassion. I endeavour to be culturally sensitive and attuned in my work and life. I seek to align my values and my practice to the principles of Te Tiriti o Waitangi and to foster heart connections with Tāngata Whenua. I continue to strive towards deepening cultural competence and am respectful of all worldviews and paradigms.


If you choose to engage with me, I will listen to the issues you bring with compassion and non-judgment. I will do my best to validate your experience(s), foster presence, and listen intently while empowering your journey. My counselling approach draws on several therapeutic approaches depending on what feels right for you.


These are Cognitive Behavioural Therapy; Dialectical Behavioural Therapy; Mindfulness and Somatic Based Practices; Solution Focused Therapy; Psychoeducation around emotional intelligence, personality patterns, and community resources.


My approach is to be a compassionate witness/observer of your experience and rather than an expert/client relationship I foster a human being/human being dynamic where you can be comfortable, safe, and find permission to feel as deeply as you need. I align quite significantly to Buddhist Psychological principles and do my best to integrate eastern, western, and indigenous modalities to inform my practice.
Background and Experience
I began working as a professional counsellor at 21 years old within a wilderness-based residential adjudicated youth program after graduating with a Bachelors in Psychology. I returned to school at 25 and graduated at 27 with a Masters in Social Work. I gained experience working within schools and the University Counselling Center.


After graduate school, I moved to Colorado and worked for a wilderness therapy program initially as a field guide. We utilized Native American/indigenous ideology (i.e., Medicine Wheel, 4 Directions, planet custodianship, etc.), mindfulness (yoga/meditation), healthy food, time in nature, ceremony, and emotional intelligence to foster an emotional and psychologically safe container/culture.

I also worked with families to assist in reintegrating their child back into the family system while creating an opportunity for candid expression.


I moved to New Zealand in 2016 to assist collaboratively in creating a rites-of-passage program such that our youth can have a headstart in their ability to come into contact with our deep shared humanity. It is still in the works and as that vision continues to grow I am happy to assist others to find their path in service and healing.

Previously, I have worked for wilderness therapy programs, public schools, support work facilities, a university counselling center, and, now, private practice. I have personally sought out therapeutic modalities for personal growth, healing, and deeper connection so I empathize with all that arises within the process of making sincere change. I honour the courage!

The main issues/ focus of my work has been recovery from trauma; relationship issues; couples/relationship; life/change development; anxiety, depression, grief; anger and work/life stresses.
I am committed to ongoing learning. I have just recently undergone the initiation for Mankind Project (MKP) and doing my first vipassana for some experiential mindfulness. Currently, I am working towards a Certificate in Neoshamanism. I am also interested in pursuing continuing education in Internal Family Systems (IFS) and Relational Life Therapy (RLT).


Would you like to know more or make an appointment, feel free to contact me.


Travis
"The journey of a thousand miles begins with a single step"
--Lao Tzu
Qualifications and registrations
BA in Psychology

Masters in Social Work

Registered with ASWB

Professional member of ANZASW
Professional Development in Imagination and Addiction

Professional Development in Neoshamanic (Healing Arts) Studies

Professional Development in Mindfulness
Registrations
Areas of counselling I can help with
Fees
Fees per session are $138 ($120 + GST)
Photos
Location