Rachel | Arts Therapist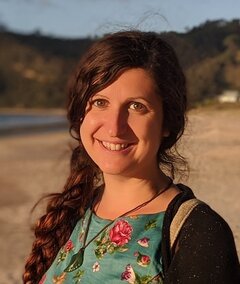 Arts Therapist Nelson




17 Collingwood Street - The Wood




7010

Nelson

Send a message
Great, you are taking the first step.
Leave a message and I will contact you as soon as possible.




Arts Therapist Nelson
My name is Rachel and I'm a qualified creative arts therapist. What this means is that I offer creative ways for my clients to express their problems and their feelings, to offer another way to speak about and to see things. My ancestry is Jewish and Scottish, and I live in the Tasman region of New Zealand.

What I love most about being an arts therapist is finding which creative medium helps my clients to feel most at home, whether that be through music, painting, photography, clay or even dance.

I am passionate about helping my clients to get in touch with their inner child through creativity, and reconnecting them to this way of talking that in most of us has been long forgotten.

I am firm believer that we are all creative, and that there is so much wisdom within each of us waiting to come out through different forms of communication, we just need to remember how to do it.


A typical session
A typical session begins with a connecting chat, where we will check in together to see what is alive in you at the time. From here, often a metaphor comes up that describes how you see a situation or how you are feeling, to which I will invite you to create using a number of different materials at your disposal (paint, chalk, oil pastels, movement, sound).

As you create, music will gently play in the background and you are free to follow your urge to make, encouraged to let the process guide you rather than pre-planning what you will create.

After you feel it is complete, we look at the art together to see what it has to say. As your therapist, I am only a guide and not a critic of the artwork - only you know what it means and I am here to support this
process' unfolding. Often the artwork's message changes in time as you change and grow - it is a beautiful process to witness.

Through this process you will see yourself more clearly, find tools to cope with distressing emotions and learn to accept your ever evolving selves that are in a constant state of change.

I welcome people of all background, genders, sexual preferences and cultures to be embraced by this practice.

My mahi is person-centred, transpersonal and process-oriented. I believe the therapy room is a spiritual sacred space, and honour your way to healing.
Background
I completed my master's degree in 2018, and have since worked with addictions, the autism spectrum, childhood trauma, anxiety disorders, physical illness, chronic pain conditions, PTSD, down syndrome, fetal alcohol syndrome and Alzheimer's.

I have a particular love for working in nature with natural materials, to add the full sensory dimension into my work with clients. I have extensive experience in working with mindfulness and meditation and incorporate this into my sessions to promote a space of peace, acceptance and unconditional love.

If you would like to know more or to make an appointment, please feel free to contact me.

Rachel
Qualifications and registrations
Masters of Arts in Arts Therapy
Professional Member of ANZACATA
Registrations
Areas of counselling I can help with
Fees
$100 per session (no gst)
Location