Kathryn | Therapist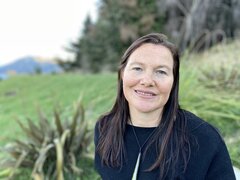 Counselling Queenstown




1092 Frankton Road




9349

Queenstown
✓ I also offer online therapy
Great, you are taking the first step.
Leave a message and I will contact you as soon as possible.




Counselling Queenstown
---
I'm currently unavailable.
Please contact
another counsellor on this website
.
---
Kia ora, my name is Kathryn.
I'm a social worker by training, and I have worked in the counselling and social service world for nearly 20 years, helping people with depression and anxiety, relationship issues, addictions and substance abuse, and trauma amongst many other issues. I'd like to think I'm pretty approachable – there's often laughter in my office, as well as some tears!
I'm passionate about working alongside you, providing a space for you to work through difficulties in your life.

I'm not a one size fits all therapist – I've got training in a number of different models, but I will do my best to work in a way that suits you. Some people just want a couple sessions to sort through an issue that you're currently facing and develop some skills. For others, there might be more work to do.
But it will always be an ongoing discussion between us about what progress we're making, whether we are still meeting your goals, and what more we might need to do.
If this sounds good to you, please get in touch and we can make our first appointment.
About me
I have lived in Queenstown for about 8 years, and have been working as a therapist in private practice for almost as long. Prior to that I worked primarily for NGOs in Auckland.
I love my job. I honestly believe that it is a privilege to work alongside people as they face some really tough issues, support them to build new skills and watch them flourish.
If you would like to know more or make an appointment, feel free to contact me.

Kathryn.


Online therapy
I have online therapy options, using either Skype or Zoom.
Statement concerning the coronavirus pandemic
I am still working during the current COVID-19 lockdown, however all my work is online. This medium works well and I have offered online appointments for a number of years. Feel free to get in touch.
Qualifications and registrations
Bachelor of Social Work (Hons)
Registered Social Worker
Full Member of ANZASW
ACC registered
Registrations
Specialisations
The majority of people that have come to see me in recent months have been those struggling with depression or anxiety and stress.
We are living in a society where those experiences are becoming more and more common. Sometimes people just want to come for a few sessions to develop some tools and skills, and a plan to better manage what is going on for them now, and sometimes people come with deeper issues that they know need to be addressed.
Our progress together is always discussed as we go. I also see a number of people with a history that includes some traumatic experiences throughout their life.
My other specialties include include working with people who are struggling with drug and alcohol use - I worked as a counsellor and then as a trainer in this field for over 15 years.
Therapies offered
Areas of counselling I can help with
Fees
Counselling 1 hour: $130 (some may be eligible for subsidies)
Location